Today is the type of day I want to crawl back into bed and just snuggle with Judah. I think he wants to as well because currently he is laying down on his beloved pillow on the living room floor. But we have to leave to meet Scott up at the Dentist in a few hours. The guy who did my root canal wants to double check it before I get my permanent cap placed on then I see my other dentist to get the permanent placed. Can this seriously be over now? All this work for one root canal has been going on since January and its now April. I think after this is finished I am finding a new dentist and not having any work done for awhile. Its crazy how dental appointments and recovery takes so much time out of your life especially more so now that I am a mom. I could be taking Judah to a park, the library, zoo, or snuggling in bed. Ah well, crossing my fingers and toes that these dental dog days are over. Here are some things that should put a smile on your face. I wanted to introduce you to a few special ladies I am sponsoring this month.
I started following Dani from Sometimes Sweet years ago. I was excited to see that we were both in Hawaii around the same time (she was there for vacation and I was there for my honeymoon) and we both were pregnant around the same time. Her sweet boy Henry was born a few weeks before my Judah. Then I ended up stepping out of my shell and talking to Dani on Twitter and we became friends. What I love about Dani is that she truly is a sweet heart and actually takes the time to talk to you, she will respond to your tweets and blog messages. I love that she actually makes you feel like your a friend. You can tell that she used to be the type of teacher that invests in her students lives before she became a SAHM. Stop by her blog, you will be pleasantly surprised at how much you will like her as well.
blog - twitter - facebook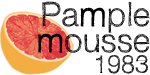 I met Maryam from Pamplemousse! on IG last summer. I have no idea how our friendship started and it doesn't feel like it ever started but was always there. Needless to say we immediately became friends and pen pals and love to send each other things for our babies. We have similar interests and I think she is the greatest thing ever. She is a great mother to her beautiful daughter Margaux and an incredible designer, she has created several shirts for Judah in the past. She is also pretty funny and I love that she gets my quirky sense of humor. I really think you will enjoy reading Maryams blog.
blog - twitter - facebook
The more I get to know Drea the more I like her. This girl was pitched some pretty hard balls in life and you know she has managed to stay up swinging when I think others would be out for the count have given up. She is the sweetest little thing with the sweetest little girl. She is actually encouraging with how honest she is about life and she is one of those bloggers who you feel as though you can relate to. I really do like this girl, I wish I had her strength, stop by her blog I think you will like her to.
blog - twitter
Stop by and say hi to this ladies!
Also if you get a chance say a pray for me that my dental woes for my root canal will be over soon and that this appointment today is not to bad and I get the go ahead to get my permanent placed.