For the month of January "my little mustache" is sponsored on the following blogs.
The Anderson Crew, seriously this blog makes me happy every time I read it. I've been following Emily's blog for quite some time now and enjoy the pictures, the family stories and the real honesty of her blog. I will be offering a discount for
My Charming Colors
on her blog this month.
I've recently found this blog written by an adorable new mama named Mandy. She is just the cutest thing and I love reading her blog. Plus she loves her God, husband, baby, tea and yoga! Who wouldn't love reading this blog.
Maryams blog. I can't wait to see what kind of DIY she has this month and she just posted a sneak peak of some new items she is going to list in her Etsy shop.....believe me its cute and I can't wait to purchase something from her shop once updated.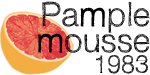 Another sweet friend named Maryam. She is sharing some pretty big news on her blog this month and I am so excited for her and her family!
Also my friend Shawntae's blog. I can't believe how fast sweet Navy James is growing. If you haven't checked out her blog yet you have to go.
I love Chelseys blog and am looking forward to some of her posts/picture challenges this month. Also have you seen her Etsy shop? I think I need a custom illustration of our sweet little family.
Last but not least I am on my sweet friend Renee's blog, we decided to trade buttons. This mama makes me laugh on the daily. Also she has the best DIY and thrift finds! A mama after my own heart. Plus she is doing a Shabby Apple giveaway!
If you get a chance, stop by their blogs and leave some love for my sweet mama friends.
(If you get a chance please double click the box and vote for our blog)